NEWS
NST receives Raja Zarith Sofiah Award
IPOH: THE New Straits Times (NST) yesterday received the Raja Zarith Sofiah Award for Corporate Social Responsibility in English Language Education for its dedication to help people master the language.
Permaisuri Johor Raja Zarith Sofiah Sultan Idris Shah presented the award to NST Education editor Hazlina Abdul Aziz at the Malaysian English Language Teaching Association (Melta) 25th International Conference here.
Melta vice-president Aslam Khan Samahs Khan said the award was to recognise and reward efforts of social responsibility by corporate organisations relating to the English language.
"NST has contributed greatly towards the advancement of education in the English language in Malaysia by providing financial aid.
"It has also supported and promoted educational initiatives in the learning and teaching processes by creating educational programmes, such as the NST Outreach programme, RHB-NST National Spell-It-Right Challenge, and creative workshops and language proficiency courses."
He said Melta was committed to creating awareness and opportunities to raise the standard of the English language in the country.
Present were Perak Menteri Besar Datuk Seri Dr Zambry Abd Kadir and Melta president S. Ganakumaran.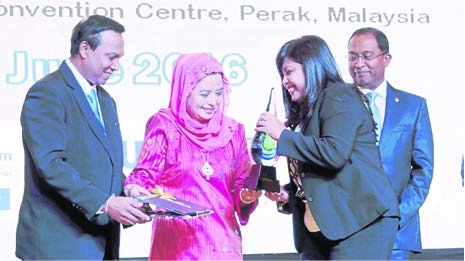 ---
Kontrak tamat serta-merta jika keracunan di sekolah
GOPENG: Kementerian Pendidikan mencadangkan agar perkhidmatan kontraktor makanan di sekolah ditamatkan serta-merta jika berlaku insiden keracunan makanan, pada masa depan.
Menteri Pendidikan, Datuk Seri Mahdzir Khalid, berkata pihaknya akan mencadangkan klausa baharu dimasukkan dalam kontrak pembekalan dan penyediaan makanan di sekolah pada masa hadapan yang membolehkan kontrak ditamatkan serta-merta jika berlaku insiden berkenaan.
"Ketika ini, tiada klausa berkenaan dalam kontrak sebaliknya hanya amaran dan jika kerap berlaku, baru perkhidmatan syarikat terbabit ditamatkan.
"Kita memandang serius kes keracunan di sekolah kerana ia membabitkan golongan pelajar, justeru mahu tindakan lebih tegas dikuatkuasakan," katanya selepas merasmikan Mesyuarat UMNO Bahagian Gopeng di sini, hari ini.
Pada Rabu lalu, seramai 53 pelajar Kolej Melayu Kuala Kangsar (MCKK) dikejarkan ke Hospital Kuala Kangsar apabila mengalami keracunan makanan selepas menikmati juadah di dewan makan sekolah berasrama penuh itu.
Mahdzir berkata, beliau akan mengadakan perbincangan dengan lebih teliti di peringkat kementerian itu bagi membolehkan penambahan klausa baharu dalam kontrak itu dapat dikuatkuasakan.
---
Teaching computational thinking
PUTRAJAYA: PRIME Minister Datuk Seri Najib Razak yesterday announced that computational thinking skills would be integrated into the school curriculum from January next year.
He said the new Standard-Based Curriculum for Primary Schools and Standard-Based Curriculum for Secondary Schools would adopt the skill in phases. "This effort will benefit approximately 1.2 million students in 10,173 schools nationwide," he said at the launch of the #mydigitalmaker movement at Sekolah Sultan Alam Shah in Precinct 1 here.
Computational thinking teaches students design thinking, logical reasoning and problem solving, which are valuable skills as they are the backbone of the digital economy, he said. "We will start with Year One pupils, Form One and Form Four students next year.
"Computational thinking and computer science (specifically, coding) will be integrated into all subjects for primary schools in phases, starting with Year One in 2017, Year Two in 2018 and so on." He said basic computer science would be offered to secondary school students, starting with Form One and Form Four students next year.
"What we are introducing is something that is being done in many countries. This is a global phenomenon. The US, the UK and Australia have already integrated computer science education into their schools. I understand that Malaysia is the first country in Asean to have piloted this curriculum in the education system."
Najib said the Education Ministry and Malaysia Digital Economy Corporation (MDEC) were working closely to prepare educators for the new curriculum. He said about 9,200 teachers were undergoing training on how to integrate computational thinking and computer science into classrooms.
"The computational thinking and computer science curriculum was piloted in 24 schools last year, involving 660 students and 50 teachers.
"In a short span of 8 to 10 weeks of classes, the students were able to create games, presentations and other creations. "He said computational thinking and computer science would also be integrated into teacher training colleges and Institut Aminuddin Baki, which trains principals and headmasters.
Present were Education Minister Datuk Seri Mahdzir Khalid, Education director-general Tan Sri Dr Khair Mohamad Yusof and MDEC chief executive officer Datuk Yasmin Mahmood.
Najib said Malaysia needed to prepare its people for the digital era as jobs such as data scientists, imagineers (engineers and multimedia experts), three-dimensional game designers and user interface designers were just a few of the emerging jobs that were in demand.
"Teaching students computational thinking and coding languages will provide them with a good foundation and prepare them for future digital economy jobs."Najib said Malaysia had more than 88,107 jobs in computer science-related fields last year.
He said the earning potential of the field was huge and urged parents to encourage their children to embrace the digital economy and consider a career in it. Citing examples, he said an animation graduate from Multimedia University and a data scientist from Penang were earning more than RM25,000 a month.
"Parents must not just encourage their children to become doctors, lawyers or politicians. Children should also be encouraged to become scientists or have careers in the digital economy, which is definitely much more exciting."
Earlier, in a media briefing, Khair said the decision to incorporate computational thinking skills into the school curriculum was part of the Education Ministry's move to upgrade existing programmes and subjects on computer literacy.
Yasmin said more efforts were being taken outside the classroom to nurture future digital makers through the introduction of digital maker clubs in schools and digital maker hubs in communities. There are currently six digital maker hubs, she said, adding that MDEC aimed to increase the number to 14 by year end. The private sector is also offering holiday internships, teaching modules and various training and tools to support this agenda.
---
Pelajar MRSM Kuantan Juara SIR-RHB-NST 2016 Peringkat Negeri Pahang
KUANTAN: Penyertaan kali kedua membawa tuah kepada pelajar Maktab Rendah Sains MARA (MRSM) Kuantan, Noor Dalilah Jafri Ahmad apabila muncul juara pertandingan mengeja Spell It Right (SIR) anjuran RHB-New Straits Times (NST) 2016 peringkat negeri kategori sekolah menengah di sini, hari ini.
Kemenangan itu membolehkan Noor Dalilah, 15, menerima wang tunai RM3,000 dan sijil penyertaan.
Seramai 100 pelajar sekolah menengah dari seluruh negeri ini menyertai pertandingan mengeja dalam bahasa Inggeris itu.
Pelajar Tingkatan Tiga berasal dari Kubang Buaya, berkata penyertaannya dalam pertandingan itu bermula secara suka-suka tetapi tidak menyangka muncul juara kategori sekolah menengah peringkat negeri.
"Ketika masuk pertandingan kali kedua, saya tidak jangka menang sebab saya hanya mahu mencabar diri serta meningkatkan kemahiran dalam bahasa Inggeris.
Memang cabaran sengit kerana terpaksa bersaing dengan pelajar lain yang sudah banyak kali menyertai pertandingan ini dan masing-masing memiliki kehebatan tersendiri. "Alhamdulillah, kemenangan berpihak kepada saya dan ia menaikkan semangat untuk membuat persiapan lebih awal bagi menghadapi pertandingan peringkat kebangsaan di Bangsar, Kuala Lumpur pada 1 Oktober nanti," katanya ketika ditemui di sini, hari ini.
Tempat kedua dimenangi pelajar dari MRSM Tun Abdul Razak, Pekan, Afifah Zahirah Arnizan manakala M Muthu Subramanian dari SMK Abdul Rahman Talib di tempat ketiga. Mereka masing-masing menerima wang tunai RM2,500 dan RM2,000.
Yang turut hadir ialah Eksekutif RHB Bank Bahagian Air Putih, Syed Ahmad Sahaimee Syed Mohd dan Auditor Media Prima Berhad, Mariana Manan.
---
School's edible garden a treat for residents
KULAI: A primary school in Felda Bukit Permai, Sedenak, 72km from Johor Baru, is supplying fresh produce to its community through its edible garden project.
SK Felda Bukit Permai has made a name for itself, as the school's compound is used to grow cabbage, papaya, white choy sam, kailan and 600 pineapple plants as well as other fruits and vegetables.
Its headmaster, Mohd Ali Mohamad, said the project began six years ago with a vegetable patch. "Through the years, the gardeners discovered that the soil was suitable for other crops. "Some of the gardeners and teachers set out to plant vegetables in the patches of earth between the classroom blocks and near the school field. "After many years, the school compound was filled with an assortment of vegetable and fruit plants.
There are even cabbage patches next to the teachers' car park. "Recently, a collaboration between the school and the Malaysian Pineapple Industry Board has led to the cultivation of 600 pineapple plants at the school.
"The project involves a group of pupils helping in the planting," Ali said. He said the vegetables and fruit plants had beautified the school's compound, and became a boon for teachers, staff, pupils and residents at the Federal Land Development Authority (Felda) settlement.
"The fruits and vegetables are either distributed among the school staff or among residents at Felda Bukit Permai. "Some of the vegetables are sold, but on a small scale. "The earnings are used to buy gifts for teachers for their farewell parties, among other things. "The harvested produce is also presented to school guests."
SK Felda Bukit Permai's edible garden also caught the attention of property developer SP Setia Bhd, which selected the school for its World Environment Day programme in June. SP Setia (Property South) divisional general manager Stanley Saw Kim Suan said the school's edible garden project taught the younger generation about sustainable living practices.
---
Bilik gerakan jerebu sekolah diaktifkan
KOTA BHARU: Kementerian Pendidikan mengaktifkan Bilik Gerakan Jerebu di sekolah seluruh negara sejak kelmarin, bagi memantau perkembangan jerebu.
Menteri Pendidikan, Datuk Seri Mahdzir Khalid, berkata arahan susulan kepada pihak sekolah akan dikeluarkan bilik gerakan berkenaan bagi mengawal aktiviti di luar sekolah.
"Setakat ini, keadaan jerebu terkawal dan kita mengaktifkan bilik gerakan sebagai langkah awal kerana bacaan Indeks Pencemaran Udara (IPU) menunjukkan peningkatan sejak beberapa hari lalu.
"Kementerian bekerjasama dengan Jabatan Meteorologi Malaysia dan Kementerian Sains, Teknologi dan Inovasi (MOSTI) bagi memastikan kawalan jerebu dilakukan dengan lebih berkesan," katanya ketika ditemui selepas merasmikan Mesyuarat Perwakilan UMNO Bahagian Kota Bharu di sini, hari ini.
Mahdzir berkata, jika bacaan IPU terus meningkat, penutupan sekolah mengikut peraturan ditetapkan akan dibuat bagi mengelak kejadian tidak diingini.
---
SMK Perlis hysteria - thrice in 13 days
KANGAR: SMK Perlis was hit by hysteria again two days ago - the third incident since July 29.
The school and the state Education Department are taking measures, including seeking help from Islamic experts, to handle the situation.
State Education Department director Izmi Ismail said the incidents started when three female students became hysterical last month. He said the hysteria spread to more than 10 others, including a male student.
He said the school was closed on Aug 2 and the situation returned to normal when it reopened the following day. However, it was learnt that another case of hysteria occurred on Tuesday.
The case went viral and raised the concern of many parents. Asked whether classes would be affected by the school's closure, Izmi said the school was required to replace the classes that were missed. "It appeared that the hysteria was under control for a few days after the school reopened, but unfortunately, it recurred recently.
"However, it is under control again and the school and the department are doing everything to resolve the problem," he said at the launch of the state-level Road Transport Department Cadets programme at SMK Syed Sirajuddin yesterday. On another issue, Izmi said the Education Ministry's Technical and Vocational Education Division was working on a solution regarding Arau Vocational College, which was in the spotlight after the discovery of handwritten banners at two locations in Arau district last week.
One of the banners near a road sign read "Kami pelajar KV Arau benci pengetua gila babi" (We Arau Vocational College students hate the irrational principal).
Izmi expressed doubt that the banner was put up by the college's students, adding that the department would continue to investigate the matter. He urged the public - parents, students, teachers or staff - to bring up issues through the proper channels instead of using methods that could worsen matters.
---
Teknik berkesan bantu calon UPSR
Skudai: Penerangan berkaitan teknik menjawab dan belajar yang betul oleh penceramah mengurangkan perasaan gugup peserta Seminar Bimbingan Peperiksaan Ujian Pencapaian Sekolah Rendah (UPSR) Sekolah PINTAR UEM Sunrise Berhad (UEM Sunrise) di Universiti Teknologi Malaysia (UTM), Skudai, baru-baru ini.
Program dua hari yang disertai 294 calon UPSR itu, anjuran UEM Sunrise dengan kerjasama BH membabitkan 18 sekolah angkat PINTAR UEM Sunrise di Wilayah Selatan Semenanjung.
Murid Sekolah Kebangsaan (SK) Sungai Melayu, Nur Athirah Sabri, 12, mengakui lebih bersemangat untuk menghadapi peperiksaan UPSR September ini, apabila penceramah menitikberatkan teknik komunikasi di hadapan khalayak membabitkan subjek Bahasa Inggeris. "Pada mulanya, saya berasakan subjek Bahasa Inggeris sukar dipelajari berikutan kesukaran menyebut dan memahami setiap perkataan, namun teknik pembelajaran berkesan yang diberikan penceramah mengurangkan perasaan negatif itu. "Pendekatan penceramah meminta peserta berdiri dan bercakap di hadapan khalayak berkaitan topik subjek Bahasa Inggeris membantu meningkatkan kefahaman saya," katanya.
Murid SK Nustanara, D Anisha, pula berkata dia memanfaatkan sebaik mungkin setiap slot subjek membabitkan tempoh tiga jam setengah bagi meraih pelbagai panduan penting, sekali gus mengelakkan kecuaian ketika menjawab soalan peperiksaan nanti.
"Saya berharap dengan keputusan cemerlang yang diperoleh ketika peperiksaan percubaan lalu, akan berulang pada peperiksaan sebenar nanti," katanya yang turut mengikuti kelas tambahan di sekolah.
Bagi Murid SK Tanjung Kupang, Sophia Syazana Normajidy, berkata walaupun dia menetap di kawasan luar bandar sama sekali tidak menghalangnya daripada mempelajari segala ilmu berguna sepanjang seminar itu termasuk mengenali rakan baharu.
"Seminar ini banyak membantu saya, termasuk mempelajari suasana pembelajaran yang baharu dan meningkatkan kemampuan berkomunikasi dalam bahasa Inggeris," katanya.
Sementara itu, Ketua Jabatan Komunikasi Korporat UEM Sunrise, Nik Surina Suria Nik Abdullah, berkata pihaknya menyokong penuh program terbabit yang selaras dengan Modul Teras 2 yang diterapkan Yayasan PINTAR.
Beliau berkata, melalui program itu dapat membantu pelajar dari sekolah angkat PINTAR memper-siapkan diri menghadapi peperiksaan UPSR. Seminar UPSR Fasa 2 itu adalah kesinambungan daripada Seminar UPSR Fasa 1 yang dijalankan pada Februari lalu dengan tujuan memberi penekanan kepada empat subjek teras, iaitu Matemaik, Bahasa Inggeris, Bahasa Melayu dan Sains.
---
'Teachers allowed to confiscate phones'
KUALA KLAWANG: Augmented reality game Pokémon Go is not allowed in schools. Education Minister Datuk Seri Mahdzir Khalid said the ban was in line with the rule on students carrying smartphones or mobile phones to school that was in place.
"With the latest trend of mobile games, we want schools to be more assertive. "Teachers are allowed to confiscate their students' mobile phones," Mahdzir said after officiating the simultaneous delegates' meetings of Jelebu Umno's Wanita, Youth and Puteri wings here yesterday.
He urged all Umno members to bolster the party's solidarity to ensure Barisan Nasional's success in the next general election. Present was Jelebu Umno division chief Datuk Jalaluddin Alias, who is also state housing and local government committee chairman.
On the latest rape cases involving two teachers from Terengganu and Sabah, Mahdzir said the news saddened him. "The incidents should not have happened.
"The cases are being investigated by the police and the ministry will await the outcome," said Mahdzir. He said the ministry would carry out a thorough internal investigation and action would be taken against the teachers involved. "We are not taking the matter lightly. "We won't compromise if the allegations are proven to be true," he said.
On Monday, a 50-year-old teacher from Jertih, Terengganu, was arrested for allegedly assaulting three pupils, aged 10, in the school's computer lab. Another case was highlighted by a news portal yesterday, involving a 53-year-old discipline teacher from Sabah, who allegedly raped three pupils, aged between 9 and 10, inside the school's storeroom.
The two cases allegedly took place during school hours. Mahdzir said the ministry was considering installing closed-circuit television cameras in schools.
"We are looking into beefing up security to protect children when they are in schools."
---
Criteria for scholarship applications
POINTERS: Sponsors lay down their requirements and highlight the benefits of their awards.
WHAT'S next after attaining the Sijil Pelajaran Malaysia qualification?
Other than visiting education fairs or pre-university expositions and college/university open days, school-leavers should also look out for scholarships.
A scholarship is an award of financial aid for a student to further his education, locally or abroad. It is normally granted based on various criteria, which reflect the values and purposes of the donor or founder of the award.
But school-leavers may lack experience and understanding in applying for scholarships after SPM.
To secure a scholarship, you must first identify the ones that are right for you and make sure you meet the requirements.
Yayasan Khazanah Watan scholarship recipient Muhammad Fikri Ahmad said preparing for a scholarship interview is a testament to "your own true self".
"My past experience of attending scholarship interviews stood me in good stead. It prompted me to shape myself as best as possible. I learnt to be more proactive and positive.
"Put extra effort into written tests and essays. At the minimum, it takes me a month to arrive at the final draft of the essay. I also got tips from a senior student who had secured a scholarship," said Muhammad Fikri, who has graduated with a Degree in Accounting from International Islamic University Malaysia.
"Attending talks and events organised by Yayasan Khazanah helped me to understand the foundation better.
"On top of that, have belief in yourself. And stick to your principles and interest."
Scholarship recipient Nur Dalila Kahar also sought advice from her seniors prior to her interview. She researched current local and international issues.
"Get information on the sponsoring company, its history, business operations and other corporate-related matters. This shows your interest in the company," said Nur Dalila, a Petronas Education Sponsorship Programme scholar who is pursuing a Bachelor's Degree in Accounting and Finance at the London School of Economics and Political Science in the United Kingdom.
In Malaysia, many organisations offer scholarships for deserving students to pursue undergraduate studies. Their selection process varies.
Khazanah Nasional offers two scholarships under Yayasan Khazanah: the Khazanah Global and Khazanah Watan Scholarships for those pursuing undergraduate (or postgraduate) courses in the UK, United States and Australia as well as select leading local universities.
Yayasan Khazanah managing director Kamarul Bahrein Sharif said the foundation looks for potential scholars who have both exceptional academic achievements and leadership traits such as strong leadership skills and active participation in extra-curricular, social or voluntary activities.
"Candidates are identified based on the Yayasan Khazanah 3P Leadership Mode: Purpose, Personal Traits and People Traits.
"We open our online scholarship application in March. Communications with candidates are via email. Once the application is closed, a team will select candidates based on the agreed criteria. The scholarship award recipient goes through a rigorous selection process and must consistently demonstrate leadership potential throughout the assessment," said Kamarul.
There are five stages of assessment before a candidate is awarded the scholarship: Verbal and Numerical Ability Test; Personality Questionnaire; Face-to-Face Assessment Camp; Interview with the Managing Director; and Interview with the Board of Trustees (only applicable to Khazanah Global Scholarship candidates).
"The interviewer wants to get to know the candidates better - beyond what is in the essay or resume. Have a conversation; crack jokes appropriate to a topic and situation, and be candid. The assessments are to unearth the candidate's strong points as well as areas of improvement. We look for leaders of the future - the successful candidate is not the most intelligent person in the room but someone who is balanced in his academic and non-academic activities."
Kamarul added that expectations are high for Yayasan Khazanah scholars to perform at the highest level throughout the duration of their studies as there is a minimum academic requirement to maintain apart from being active in co-curriculum and voluntary activities. Scholars have to attend a leadership development programme organised by the foundation.
"Scholarship recipients serve Khazanah Nasional or other approved organisations for a duration equal to their study period, usually upon graduation, but where conditions permit, we allow them to gain experience in approved organisations outside of the Khazanah group of companies, up to the same duration of their scholarship bond with us.
"Where the duration of study or sponsorship is less than two years, one will be required to work at Khazanah Nasional or an approved organisation for a minimum of two years."
Under the Petronas Education Sponsorship Programme, the company offers outstanding Malaysians the chance to pursue undergraduate studies in oil and gas related fields. Since its inception in 1975, the programme has benefited more than 35,000 students nationwide with an estimated sponsorship value of RM2.9 billion.
Petronas has stringent selection standards based on merit, and sponsorships are granted based on the following criteria: Malaysian citizens aged between 17-19 years old; excellent academic achievement; active participation in extra-curricular activities; and strong leadership behaviour.
All applications must be submitted online and there are no processing fees. Successful candidates are notified online.
The programme is a bonded education sponsorship and sponsored students serve the company for a period of time, based on the agreement.
The Shell Malaysia Scholarship is open for application at the start of the year and scholars need to be all-rounders, excelling both academically and in extra-curricular activities.
Shell Malaysia spokesperson Leigh Wong said Shell scholarship candidates are assessed based on three categories: capacity (ability to think critically outside the box, develop solutions and identify risk based on information at hand); achievement (ability to work in a team and as a leader while overcoming obstacles to achieve stated goals); and relationship (work effectively as part of a diverse team and form long-term working relationships crucial to delivering goals).
Applicants have to complete two online assessments - a competency test to assess their personality, behaviour and thought process while a cognitive test gauges numerical, problem-solving and decision-making skills.
"Focus on developing your competencies and know what you need to work on, and set a goal to strengthen soft skills such as communication or presentation skills as well as technical abilities.
"By working on your competencies, you build up your credentials that will make you shine and be ready for employment," said Wong, adding that Shell scholars are not bonded.
WHAT SCHOLARS SAY
Irina Mahmad Rasia, a Khazanah Global Scholarship recipient, said that while she applied for a number of scholarships after SPM, the Yayasan Khazanah scholarship stood out for its criteria.
"I initially thought I had very limited chances of being chosen, but I decided to apply anyway since there is nothing to lose from putting in an application. I was attracted by the flexibility of the programme which allows its scholars to pursue certain courses that are considered non-traditional. Given my interest in the relatively niche area of materials science, this was a clear advantage for me," said Irina, who recently graduated with a Bachelor's degree in Materials Science and Engineering from Imperial College London.
Universiti Teknologi Petronas (UTP) mechanical engineering undergraduate Muhamad Fikri Muhamad, who is a Petronas Education Sponsorship Programme recipient, said pursuing his discipline has always been his dream and the university has an array of engineering courses.
"With the scholarship, my basic needs such as food and lodging are taken care of, providing me with a stress-free environment and allowing me to fully concentrate on my studies," he added.
He advised scholars to prepare themselves both mentally and physically, and keep abreast of current issues.
"Answer confidently, stand firm by giving valid justifications and supporting facts. But, most importantly, relax and don't rush your answers."
Eugenia Edwin Galan had always hoped for a scholarship to further her studies abroad after SPM. The Shell Scholarship recipient said: "The scholarship does not require a bond upon graduation. Scholarships are vital in nurturing aspiring leaders of tomorrow. Economic status should not be a hindrance to pursuing one's dreams.
"As I come from a family of four siblings, studying abroad was never an option. With the scholarship, I am able to go beyond what I originally thought I could. Scholarships play a part in shaping a different future by investing in students like me," said Eugenia, who is pursuing a degree in petroleum engineering at the University of Oklahoma in the US.
Lim Jia May decided to apply for the Shell Scholarship due to the high cost of living and fees to support a four-year course at UTP.
"A scholarship not only supports me financially throughout my four years at university, it also encourages me to achieve better results to maintain it," said Lim, who is pursuing a degree in petroleum geoscience.
Yeoh Ji Xun attended his first interview when he applied for the Petronas Education Sponsorship Programme.
"I gave a lot of thought on possible questions that might be asked at the interview. I sought tips from interviewees.
"Brush up on your English language and communication skills. And get a good rest before attending the interview," said Yeoh, who is pursuing mechanical engineering at the University of Cambridge in the UK.
Yeoh hopes to play a part at Petronas in bringing about economic development in the country.
"I would like to be involved in gas transmission pipeline network operations in the future as a lot of innovation opportunities can be spurred in delivering the outcome."
---
Alumni TKC sasar kutip dana RM200,000
KUALA LUMPUR: Persatuan Bekas Pelajar Kolej Tunku Kurshiah (TKCOGA) menyasarkan kutipan RM200,000 tahun ini bagi membantu pembangunan sekolah dan pelajar.
TKCOGA yang meraih dana menerusi pelbagai program termasuk makan malam amal yang diadakan dua kali setahun, akan menyumbang bagi pembinaan beberapa kemudahan termasuk padang pelbagai guna dan menambah jumlah bas sekolah.
Hari ini, Jamuan Makan Malam Amal anjuran TKCOGA dimeriahkan dengan kehadiran Perdana Menteri, Datuk Seri Najib Razak dan isteri, Datin Seri Rosmah Mansor.
Selain menjadi penaung majlis amal itu, Rosmah juga adalah bekas pelajar Kolej Tunku Kurshiah (TKC) pada tahun 1968, sebelum menyambung pengajian dengan menduduki peperiksaan Sijil Tinggi Sekolah (sekarang Sijil Tinggi Persekolahan Malaysia) pada tahun 1970.
Antara kenamaan lain yang mendapat pendidikan di TKC yang kini berusia 69 tahun adalah Timbalan Menteri Pembangunan Wanita, Keluarga dan Masyarakat, Datuk Noriah Kasnon; Ketua Wanita UMNO, Datuk Seri Shahrizat Abdul Jalil; Ketua Pembangkang, Datuk Seri Dr Wan Azizah Wan Ismail dan wanita pertama dilantik sebagai Naib Canselor Universiti Malaya, Tan Sri Dr Rafiah Salim.
---
El Nino: 50,492 students affected in Pahang
KUANTAN: The directive to close schools due to the hot weather in the districts of Temerloh and Jerantut today involved 50,492 students, said State Education Department director Datuk Rosdi Ismail.
He said 155 schools comprising 38 secondary schools and 117 primary schools were ordered closed.
"A total of 13,476 secondary school students and 18,401 primary school pupils are affected in Temerloh.
"In Jerantut, affected are 7,401 students from secondary schools and 11,214 from primary schools," he said when contacted by Bernama.
Yesterday, the Education Ministry via a media statement, ordered all schools in the two districts to be closed for a day after the temperature readings in the two areas exceeded 37 degrees Celcius due to the El Nino phenomenon.
Also ordered closed were schools in Perlis which had been closed thrice since the country was hit by the hot and dry weather a few months ago.
However, the directive to close only involve the absence of the students as a health measure and the school days missed do not have to be replaced.
Meanwhile, the administrative operations of the schools such as meetings, planning of teaching and learning activities and other routine tasks, which do not involve students, go on as usual. -- BERNAMA
---
Jaga kesihatan
Untuk meneruskan usaha mengajar murid-murid mengenai kepentingan menjaga kesihatan badan, Yeo Hiap Seng Berhad (Yeo's) bekerjasama dengan Animonsta Studio untuk melancarkan program 'Jelajah Inspirasi Boboiboy Bersama Yeo's Yeogurt' baru-baru ini. Pengurus Komunikasi Korporat Yeo's, Encik Joe Wong berkata program itu istimewa hanya untuk 10 buah sekolah sahaja di sekitar Selangor. Katanya, kerjasama itu memberi peluang kepada murid-murid mengaitkan nilai-nilai murni yang terdapat rancangan animasi terbitan Animonsta Studio itu.
Makanan sihat
Beliau berkata, nilai dalam Boboiboy berkait dengan konsep pemakanan sihat yang diterapkan oleh Yeo's, iaitu 'kuat' dan 'kuasa'. "Kedua-dua konsep ini juga akan ditanamkan ke dalam diri murid-murid dalam program jelajah ini. "Kuasa bersabar, kuasa tabah, kuasa tolong-menolong dan pe-ngetahuan mengenai kepentingan sistem penghadaman ini akan kami sampaikan di samping membuka mata murid mengenai kerjaya dalam bidang rakaman suara. "Murid-murid bertuah ini juga berpeluang bercakap dengan pelakon suara watak Ying dan Gopal iaitu Cik Yap Ee Jean dan Encik Dzubir Zaakria. "Program ini juga akan memberi peluang kepada murid-murid untuk terdedah kepada pembikinan animasi filem, Boboiboy: The Movie," kata Encik Joe Wong lagi.
Peluang kerjaya
Sementara itu, Penolong Kanan (Pentadbiran) Sekolah Kebangsaan Sekolah Kebangsaan Pulau Meranti, Encik Mohd Azmin Atan, berkata program itu sangat penting untuk mengingatkan murid-murid tentang kepentingan menjaga kesihatan di luar waktu kelas. Encik Mohd Azmin turut menerangkan yang kesanggupan syarikat seperti Yeo's bersama-sama Animonsta Studio untuk datang dan memberi penerangan mengenai kepelbagaian peluang pekerjaan ini merupakan satu rahmat kepada murid-murid sekolah berkenaan.
Penghadaman
Antara murid yang hadir dan mempelajari kepentingan penghadaman ialah Nurshazlin Zulkifli, 12 tahun. "Hari ini saya mempelajari kepentingan menjaga kesihatan saya dengan meminum Yeo's Yogurt yang mengandungi susu dan asid laktik untuk membantu penghadaman saya," katanya.
Murid-murid SK Pulau Meranti ini turut mendapat minuman Yeo's Yogurt dan poster filem Boboiboy: The Movie'.
---
Have regular checks on eateries, canteens
FOOD poisoning cases in the country, especially those involving students, seem to be common lately as reported in the media.
This should not be taken lightly as food contamination can be fatal.
The National Institute of Occupational Safety and Health (Niosh) urges the relevant authorities, school administrators, eateries owners, caterers, food handlers and parents to take preventive steps.
We do not want a repeat of the recent food poisoning case in Batu Gajah, Perak, which claimed one life while several were hospitalised. Less than a month after the incident, another food poisoning episode took place at Sekolah Menengah Sains Tapah in Perak, where 43 students and a teacher fell sick after eating roti jala and chicken curry at the hostel.
It was later found that the chicken was contaminated by salmonella bacteria as it was not properly stored and the 30-minute cooking time was too short to kill the bacteria. It was the second case of food poisoning reported in the school in the past three years.
In October 2013, more than 270 students had food poisoning after having a chicken meal. Prior to that, there were a number of cases involving other schools. Shortly after, in Sekolah Kebangsaan Tiong in Kota Baru, Kelantan, 29 pupils had food poisoning after eating at the school canteen. The canteen was closed for two weeks pending investigations, while the contract of the canteen operator could be terminated. As for food outlets and restaurants, owners must ensure that their workers are qualified and practise hygienic food preparation and handling.
Food poisoning happens when one consumes food contaminated by dangerous bacteria. Mild food poisoning results in a few episodes of nausea, vomiting and diarrhoea, which will subside. Serious food poisoning leads to continuous vomiting, diarrhoea or bloody diarrhoea, fever and severe dehydration. Sometimes, it can lead to kidney failure and death.
Most bacteria are present in animal-based products such as meat, fish, egg and milk. They are easily contaminated if not cooked properly.
In the wake of the recent food poisoning incidents, there should be close monitoring of food preparation and handling, as well as frequent checks on eateries and school canteens in the country.
Roadside food stalls are mushrooming and frequented by the public who seem unsure whether the operators have certificates from the Health Ministry or permits from the local authorities. Furthermore, many restaurants, cafes and outlets in food courts today hire foreigners to cook and prepare food.
In view of these, authorities have to be proactive and step up their inspection of eateries and school canteens. They have to ascertain that food workers comply with the regulations under the Food Act 1983.
Frequent random checks (as opposed to the current practice of once a year) and on-the-spot compound issued by the ministry and local governments will improve the cleanliness of eateries, and ensure safe and hygienic food preparation and handling.
Local authorities also have to step up their inspection of eateries in their jurisdiction and focus on the roadside stalls to weed out unlicensed ones. Authorities should also recall unsafe or contaminated food in wet markets, mini markets, supermarkets or hypermarkets and impose severe punishment on wrong doers.
Under the law, owners or operators of eateries are not supposed to employ food handlers to work at their premises unless they have undergone training and have been medically examined and vaccinated by registered doctors. If they fail to do so, the owners or operators are liable to a maximum fine of RM10,000 and jail up to two years.
Our humid weather encourages the breeding of harmful pests such as cockroaches, rats and flies. This is another aspect that should not be ignored, besides the cleanliness of tables, utensils and toilets, and whether food is properly covered.
As for primary school pupils, teachers and parents must teach them about food safety and how to determine whether food is good for consumption. School administrators or parent-teacher associations have to ensure that sinks in school canteens are properly maintained and that soap is provided for students to clean their hands before and after meals.
---
Prinsip ilmu haba
Mengapakah kita perlu menggunakan kain sebagai alas tangan sebelum memegang tangkai cerek yang berisi air panas? Air di dalam cerek berkenaan menjadi panas disebabkan menerima haba apabila dipanaskan atau dididihkan. Ketua Panitia Sains Sekolah Kebangsaan Sultan Hisamuddin Alam Shah, Encik Muhamad Farhan Fauzi, berkata haba ialah suatu bentuk tenaga yang boleh menyebabkan sesuatu bahan menjadi panas atau sejuk.
Kehilangan haba
Beliau berkata, keadaan itu berlaku kerana bahan akan menjadi panas dan menerima haba manakala menjadi sejuk apabila kehilangan haba. "Sebagai contoh, air di dalam cerek menjadi panas kerana menerima haba apabila dipanaskan sama ada di atas api dapur mahupun elektrik. "Apabila pemanasan dihentikan, air di dalam cerek akan menjadi semakin sejuk kerana kehilangan haba," katanya.
Tidak dapat lihat
Encik Muhamad Farhan berkata, haba cuma boleh dirasa tetapi tidak dapat dilihat. Sehubungan dengan itu, sebagai langkah keselamatan, katanya, kita perlu memahami bahan-bahan yang boleh dikategorikan sebagai konduktor atau penebat haba.
"Bahan konduktor ialah bahan yang boleh mengalirkan haba seperti besi, tembaga dan aluminium.
"Sebab itulah, kita tidak boleh terus memegang cerek besi atau bekas aluminium panas tanpa sebarang alas.
"Sementara bahan penebat ialah bahan yang tidak boleh mengalirkan haba seperti plastik, kayu, getah, kaca, kain dan kulit.
"Bahan ini boleh digunakan sebagai pelapik jika kita ingin memegang benda yang panas, seperti cerek," katanya.
Kesan haba
Menurut Encik Muhamad Farhan, topik haba yang dipelajari dalam Tahun Lima turut menyentuh tentang kesan haba ke atas bahan kerana jirim akan mengembang apabila dipanaskan dan mengecut apabila disejukkan. Apabila murid benar-benar faham dengan prinsip berkenaan, katanya, perkara itu lebih mudah untuk diaplikasi dalam kehidupan seharian.
"Sebagai contoh, pernahkah anda mengalami kesukaran untuk membuka penutup botol sos yang baharu dikeluarkan daripada peti ais?
"Jika pernah, apakah yang anda lakukan untuk membuka penutup botol berkenaan?
"Cuba kaitkan situasi ini dengan proses pengemba-ngan dan pengecutan bahan.
"Rendamkan penutup botol yang ketat di dalam air panas dan haba akan menyebabkan penutup itu mengembang seterusnya mudah dibuka," katanya.
---
Principals must not keep silent about bullying in schools: Education DG
KUALA TERENGGANU: School principals and headmasters should not keep silent about bullying cases in their schools, said Education director-general Datuk Sri Dr Khair Mohamad Yusof.
He said they should address the problem in accordance with the guidelines and procedures in circulars which clearly spelt out the preventive measures and action to be taken.
Although the incidence of bullying and fights among students was only two per cent a year, these cases created a big impact when they occurred, he told reporters after opening a National Education Management Conference for school principals here last night
On another matter, he reminded school principals to progress in tandem with the education transformation plan initiated by the country's leadership and the Education Ministry.
"School principals have an immense responsibility in not only leading teachers in providing education and imparting knowledge but also being accountable for the realisation of education transformation goals as aspired by the nation," he said.
He said principals should also take the appropriate approach to coax their subordinates to work as a team in achieving goals.
"In other words, an effective leader has the wisdom to apply the best leadership style, depending on the situation and circumstances," he said. --Bernama
---
Sektor pendidikan Bagan Datoh terus dipacu - TPM
BAGAN DATOH: Datuk Seri Dr Ahmad Zahid Hamidi mahu sektor pendidikan di Bagan Datoh terus dipacu ke arah kecemerlangan dalam usaha menjadikan Bagan Datoh sebagai antara hab pendidikan dalam negara.
Timbalan Perdana Menteri berkata, usaha itu juga bertepatan dengan cadangan Perdana Menteri, Datuk Seri Najib Razak yang mahukan Bagan Datoh menjadi tempat kemakmuran yang baharu.
"Semua ini adalah barakah yang kita panjatkan doanya kepada Allah, cuma apa yang kita mahukan adalah komitmen Perdana Menteri yang bersetuju memartabatkan Bagan Datoh sebagai satu tempat punca kemakmuran baharu dapat direalisasikan," katanya.
Beliau berkata demikian ketika merasmikan penutupan Perak Academic Community Engagement (PeACE) 2016 di Sekolah Menengah Sains Bagan Datoh, di sini, sebentar tadi.
Ahmad Zahid berkata, untuk itu, usaha itu perlu diterjemahkan dengan komitmen yang tidak berbelah bahagi oleh semua pihak bagi membolehkan ia direalisasikan.
"Tiada jalan singkat untuk kita berjaya ke puncak melainkan melalui pendekatan akademik dan pembelajaran sepanjang hayat," katanya.
Beliau berkata, antara usaha ke arah menjadikan Bagan Datoh sebagai hab pendidikan ialah rancangan untuk memendekkan masa perjalanan di antara Bagan Datoh dan Kuala Lumpur yang hanya mengambil masa kurang 90 minit.
Katanya, ia akan dilaksanakan melalui pembinaan jalan raya baharu termasuk menempatkan cawangan Pejabat Daerah dan Tanah Hilir Perak bagi memudahkan urusan ke arah usaha itu.